Ipad Teleprompter Hire In Adelaide
TO Book, fill out the request form or call 0426 274 766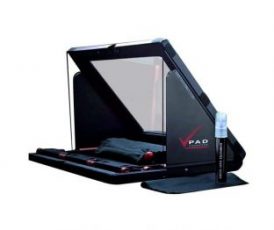 Included in the Teleprompter hire Kit:
Easy setup with supplied rails and quick release plate
Compatible with a large range of cameras
1 x Ipad supplied (use your phone to control)
Equipment: $55 | Insurance: $5  | GST: $6
Equipment: $80 | Ins.: $10 | GST: $9
Equipment: $205 | Ins.: $15 | GST: $22
Teleprompter hire information: The Pad Prompter for 15mm Rigs, from Onetakeonly, is a compact tablet teleprompter designed to be attached to the front of your 15mm camera rig with included rods and rod adapters. It's meant to be used attached to your rig while your rig is mounted on a tripod.
Product info here